Though online recruitment platforms have become the top place for many companies when advertising openings, newspapers are still an effective way to find and hire the best candidate. Using a combination of newspaper and online platforms gives you a real advantage in reaching the best local talent.
Here are some advantages of using newspaper to connect with job seekers.
Targeting
Newspaper recruiting allows you to target a more specific geographic location and audience. This allows you to hire more experienced and local candidates. Which is helpful when looking for someone with local knowledge, higher experience or minimal travel needed.
Convenience
While most jobseekers use the internet to find a job, not everyone has direct access to the online world. A newspaper ad can be read anytime and anywhere, which makes it highly convenient for jobseekers. Newspapers let candidates find your ad at their leisure, this allows for qualified and interested applicants.
Flexibility
Unlike job boards which only allow specific information, you have more freedom when running an ad in the newspaper. Depending on your budget, most newspapers offer different ad size and placement options. You could include all the information needed along with a photo or other creative. With so much flexibility in newspaper ads, you can even buy a full page or half page ad to stand out and attract the attention of a larger number of qualified candidates. It might also be possible to place the ad outside of the classifieds section to increase visibility, this is beneficial if you're advertising a variety of positions.
Reach  & Audience – The Plain Dealer & Cleveland.com:
The Plain Dealer – Northeast Ohio's community watchdog, is Ohio's largest daily newspaper with more than 400,000 daily readers and more than 700,000 Sunday readers.
Audience:
43% male, 57% female
62% some college or more
44% between ages of 25 – 54
Cleveland.com – The #1 news and information website in the state of Ohio. Cleveland.com attracts almost 10 million unique visitors every month – more than any other news source in the Greater Cleveland area.
Audience:
50% male, 50% female
3% some college or more
63% between ages of 25 – 54

Picture your job post here: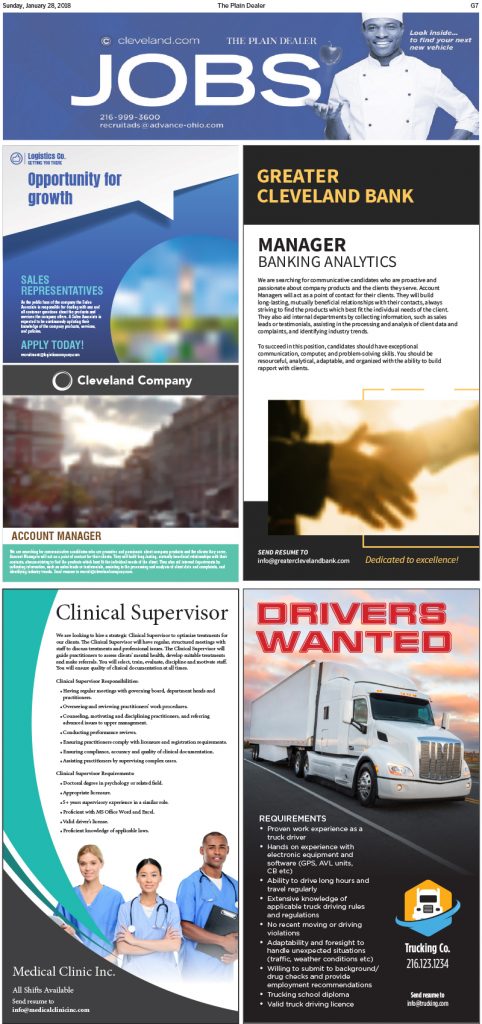 Contact us today to discuss your recruitment strategy.